Project Description
Optical glass cutting with diamond band saws from DRAMET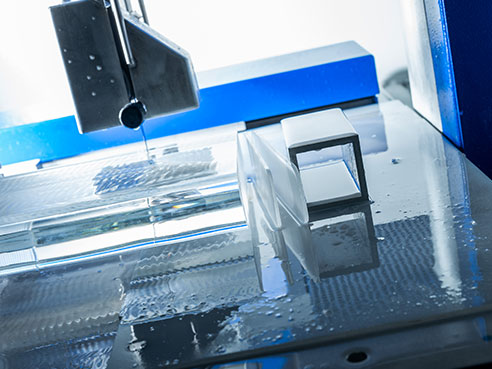 This is a video of the sawing process.
Precise cutting of optical glass into slices with DRAMET diamond band saws
Optical glass is an expensive material.
The cutting process with DRAMET band cutting machines is extremely precise. This considerably reduces the effort required for the subsequent grinding process. In addition, the small kerf (between 0.5 and 0.9 mm) saves material.
The sawing process itself is carried out with water cooling. The application shown in the picture shows a glass block clamped to a vacuum plate being automatically sawn into slices. The cut-off glass slices are pushed against a stop tube and, after the entire glass block has been sawn, can be removed from the machine as a unit.
Optical glass cutting with diamond band saws from DRAMET